It's hard to believe we're coming upon a year of this pandemic. Spending more time at home has had us organizing, cooking, baking, and learning to cope with loving loved ones. Have you done something different this year? This blog post is my February newsletter. If you would like to subscribe click here or on the banner at the bottom of the page. We'll make a visit to the fictional town of Pecan Bayou to see how Ruby Green, owner of The Best Little Hairhouse in Texas is making it through the pandemic.
Did you know that Murder of a Good Man has been picked up by Harlequin? It will be available through their website on March 9th with a snazzy new cover!
GIVEAWAY! I will be giving away 5 signed paperback copies of Murder of a Good Man.
February 5/Review
February 19/Review
February 26/Showcase

Hello Residents of Pecan Bayou. This is Betsy Livingston Fitzpatrick, the Happy Hinter and part-time crime solver. If you have been revamping pieces of furniture with spray paints you might find that stray cans are all over your garage or work area. When you are ready to start that new project, where is that can of paint? Could it be in the mess you've created as you rushed to the finish of your last project? Here's my helpful hint and it's one to lessen the amount of trash you put to the curb every week. If you have cardboard six pack cases, whether from soft drinks or beer, you'll find the six square pockets are a perfect fit for a can of spray paint. Not only do you have the paint all in one place, but now you have a handy handle to transport it! Now, just because you feel good about being on the road to organization with this helpful hint, you do not need to empty out a six pack right away!
This will lead me to my next column, "Cures for a Nasty Hangover". That's all for now,
The Happy Hinter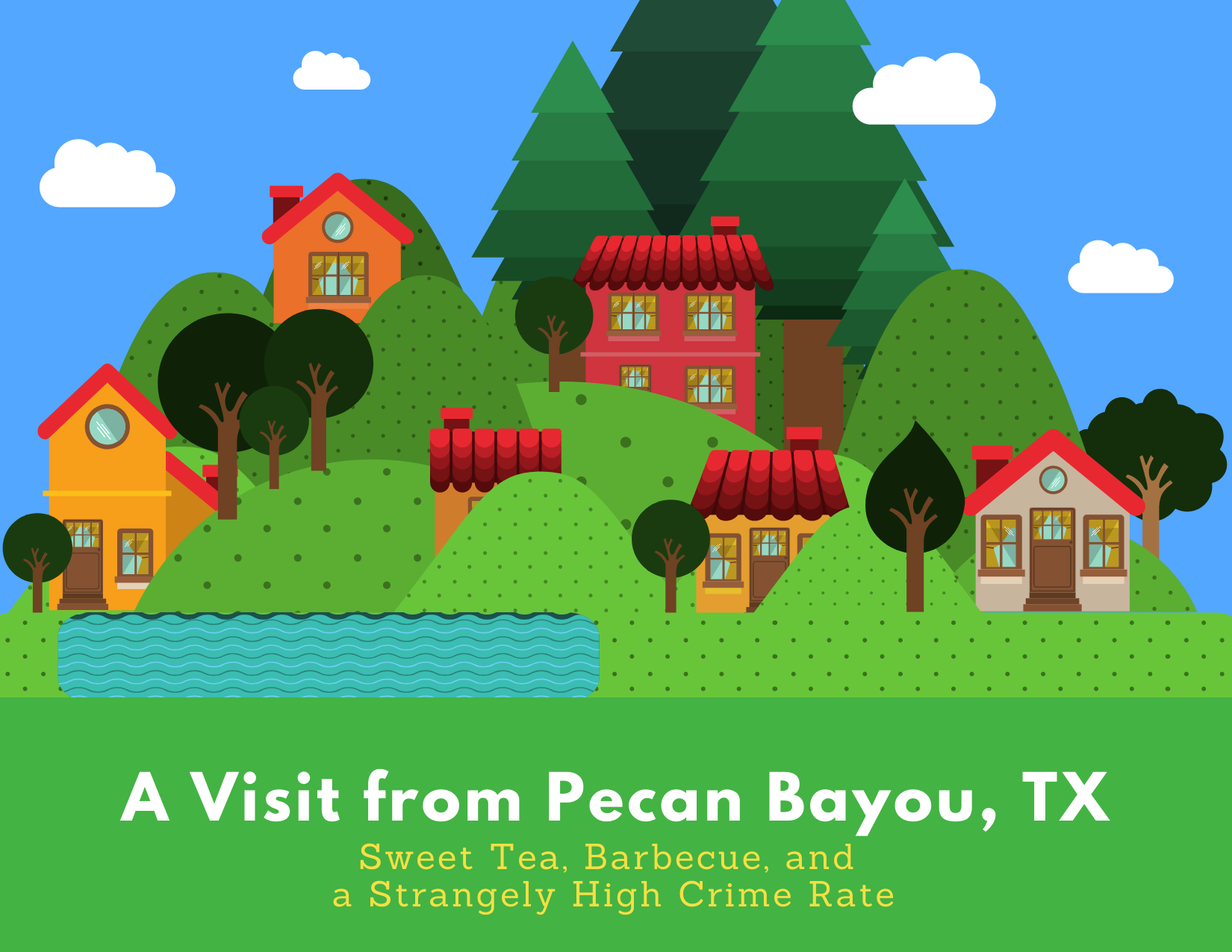 Hello Neighbor!
Ruby Green here to tell you how Pecan Bayou is doing in the pandemic. The Best Little Hair House in Texas had to close down for awhile. Betsy came up with the idea of wearing a green trash bag as my smock and one of those big clear plastic masks. That way I could cut hair and still be socially distant.
I looked like I belonged in the creature feature down at the Rialto. I wore that for a while, but Texas in the summer can be a devilish place and wearing a coating of Hefty was a big pain in the you-know-what. Other people in Pecan Bayou have learned to get along with all of the rules and regulations. Birdie's Diner and Benny's Barbecue went down two tables on the sidewalk. That seemed to work out until the hurricane season hit.
The Pecan Bayou Congregational Church is back to meeting in person. My brother, Pastor Green, tried going online but some of our older members had trouble with that YouTube thing. We've only had one case of Covid here, mostly because people who live here stay here no matter what's going on. Why would they leave? This is Pecan Bayou. That's all for now, and if you need those bangs trimmed, come on in.
You don't need an appointment at The Best Little Hairhouse.